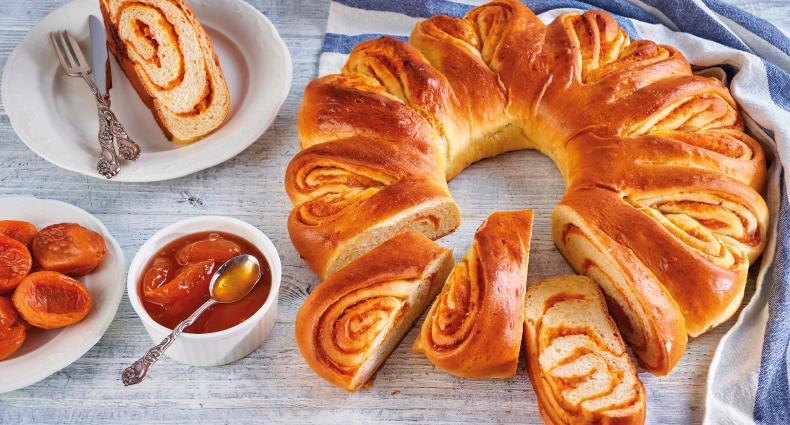 Ingredients for the yeast:
½
kg (4 cups) all-purpose flour
Flavoring (mahlepi, gum, lemon zest)
Ingredients for the stuffing:
½
cup of coarsely chopped almonds
Steps:
1
Mix the Mac Magic dry instant yeast with half of the flour and lukewarm milk
2
Pour the rest ingredients into the mixer and stir until it becomes porridge.
3
Pour the rest of the flour in increments and knead into smooth and elastic dough.
4
Let it sit in a warm place in liquid until it doubles its volume.
6
Divide the dough in half and open 2 sheets measuring 30ˣ30 cm and 8 mm thick.
7
Lay half the jam in the center of the pan lengthwise with a margin of up to 4 cm and on the sides 10 cm.
8
Cut the sides diagonally with a width of 4cm without reaching the jam.
9
Remove the four strips from the corners.
10
Apply the margins and strips with yolk diluted with water.
11
First lift the two margins up and down, covering the filling a little bit. Then lift the strips two by two facing each other and cross then in an X formation on top of the jam.
12
Put them in a pan with buttered greaseproof paper. Cover them and leave them in a warm and liquid place to swell.
13
Spread yolk on them, sprinkle them with the almonds and bake them in preheated oven set to 200οC for 20 minutes .
14
Sprinkle the oven with a little water before baking.